Data is the cornerstone of every business decision today. Even though more and more enterprises are starting to launch their cloud strategies and using data lakes and cloud computing for digital transformation, data management is still full of challenges for enterprises.
One of the most common challenges enterprises encounter is that their most valuable data assets are isolated in local computers, data centers and cloud services, which means they are lacking uniform data and indicator definitions.
How can I be liberated from this messy, massive data and maximize my data value?
With the development of cloud computing, more and more enterprises are considering building their own IT business systems and enterprise application platforms on the cloud to realize an agile, efficient and cost-controllable new IT architecture through rapidly evolving big data technology and its scalable distributed architecture.
Challenges
How can the timeliness of analysis be guaranteed when the scale of data constantly increases?
How can we achieve cost optimization?
How can we achieve unified data management and enable cross-departmental collaboration?
How does the technical architecture meet future challenges?
These Are the 4 Key Elements to Evaluate When Selecting a Cloud Big Data Analysis Service
1: Engine Analysis

Performance Guarantee: In the era of big data, the explosive growth in the scale of enterprise data has not only brought about the expansion of data magnitudes from TB to PB, it has also increased data complexity. In the pursuit of lean data analysis, enterprises must evaluate whether an analysis engine can provide high concurrency and excellent analysis capability when working with massive data volumes.
Enterprises need to consider an engine's performance according to both their existing and future needs. While evaluating the concurrency and performance of third-party software, enterprises should also investigate the degree of integration with cloud services, such as computing and storage.
Cost Control: According to the results of the RightScale 2019 State of the Cloud Report from Flexera, about 35% of costs for enterprise cloud services are wasted. The reasons for such huge waste often includes over-allocation, idle resources, and all-day operation of virtual machines.
At present, there are many cloud cost management software options on the market, such as Nutanix Beam, Turbonomic, ParkMyCloud, and more. Most cloud vendors also have corresponding native services, such as Azure Cost Management and Amazon CloudWatch.
Computing resources often account for a heavy part of the cost for big data analysis services on the cloud. The most common cost control mechanism is to manually monitor and adjust those resources through third-party cloud cost management software, while another option is for the big data analysis service to actively conduct intelligent adjustments internally.
2: Data Management

Unified Business Logic: With the growth of data practitioners and data applications, each business line is building its own data system to drive business growth. Based on user preferences, different business units supported by IT use different BI tools and data marts for their business analysis.
Due to each data platform's construction and different departmental requirements, each BI tool needs to develop semantic information separately, which can easily create isolated islands of data analysis.
If there is no consensus on data definitions and measurement standards, that lack of unified analysis means an analyst cannot see the whole picture of the business.
Their data analysis results will be undermined and their efforts will eventually be wasted. It is especially important for data management that the enterprise understands how to avoid data silos and enable data consumers from different business departments to form a unified understanding and cognition of data resources.
In order to build a unified big data analysis platform, consider whether the new products/services can be seamlessly integrated with your existing BI tools, provide friendly and standard interfaces, and match the usage habits and analysis efficiency of different business departments, as well as whether it can help build a unified semantic layer to share business logic.
Security Policy: As more and more enterprises plan to store data on big data platforms to form a unified data lake, personal identity information (PII), detailed financial data and other types of proprietary and protected data will be centralized on the big data platform, and so the CIO is bound to pay more and more attention to security policies, data access control and audit requirements.
In order to help different users realize different data views on a unified data service, data analysis technology on the cloud needs to be able to provide fine-grained access control to ensure data privacy to the greatest extent while still providing a unified and efficient data platform.
If the security policy can be unified, that is, users and data access management can be uniformly configured in the data asset layer of the big data platform and act on all upper-level business applications, IT will not need to configure additional data access control for lower-level systems.
3: Technical Architecture

Cloud Native Architecture: Enterprises need to be forward-looking when designing technology architecture, that is, the technology architecture should not only be able to face the immediate challenges but also be flexible enough to face future unknown challenges.
Gartner's analysis report How to use Semantics to Drive the Business Value of Your Data points out that the deployment and innovation of database management systems are increasingly giving priority to cloud deployment or only offering cloud deployment.
The concept of "cloud native" has been used since it was put forward in 2013. Cloud native refers to the adoption of technologies and management methods specially optimized for agile delivery models on the cloud to achieve efficient and continuous service capabilities.
More and more enterprises prefer a cloud native architecture that can make full use of the open cloud computing technology ecosystem, reduce delivery risks and better cope with future unknown challenges.
4: Technical Ecosystem
At present, there are many mature solutions in the enterprise data analysis ecosystem, including cloud platform, data source, data processing, data analysis, etc. An open big data architecture enables enterprises to make full use of their advantages to form an end-to-end technical architecture.
The openness of a data analysis service can be evaluated through API support with mainstream software and integration with mainstream data processing frameworks.
To address the common requirements mentioned so far, Kyligence customizes and continuously optimizes its fast cloud big data insight service. Kyligence Cloud offers products and consulting services to meet users' cloud data analysis needs.
Kyligence Cloud is a one-stop cloud data management and analysis service that uses cloud native computing and storage to help enterprises build fast, flexible and cost-effective innovative big data analysis applications on any data lake.
Kyligence Cloud can effectively improve the timeliness of data analysis, reduce the total IT cost, enable cross-departmental collaboration through unified data services, and flexibly deal with the challenges that may be brought by future data volumes and business development.
Fully integrated with Spark, it not only fully realizes the landing of data analysis applications, but also prepares for online machine learning and artificial intelligence applications.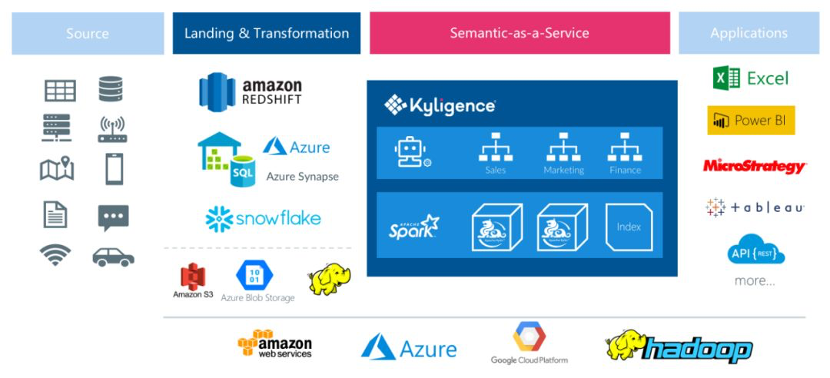 To learn more about Kyligence Cloud's architectural layout and technical design details in terms of security and other aspects to meet the above challenges, visit our Kyligence Cloud Overview page.
References
[1] RightScale 2019 State of the Cloud Report from Flexera: https://info.flexera.com/SLO-CM-WP-State-of-the-Cloud-2019
[2] Best Cloud Cost Management Software in 2020 | G2: https://www.g2.com/categories/cloud-cost-management
[3] Gartner Research: How to Use Semantics to Drive the Business Value of Your Data: https://www.gartner.com/en/documents/3894095-how-to-use-semantics-to-drive-the-business-value-of-your